When you were young, did you ever play with a baby doll? Cuddle a beloved pet a little too hard? Find a bug, or a turtle, or a baby bird, and try to keep it happy and alive inside a magical shoebox world you were CERTAIN was just like what it needed in the wild?
Well, you're in good company. Wild animals like that feeling of companionship, too, which is why they regularly "adopt" animals of another species. Sometimes the relationship is parental, sometimes it's more like owning a pet, but it's always intriguing to see our wild counterparts ignore instinct and act, well, human:
–
Baboons & Monkeys
Primates are our closest relatives in the animal kingdom, so it's not exactly surprising that they share our basic human need for affection.
In zoos, baboons regularly "adopt" creatures that they come into contact with, like this baboon in a private Lithuanian zoo, who formed a strange, parental bond with a chicken:

–
For a long time, animal behaviorists assumed this behavior was a product of captivity, occurring because the baboons were lonely or inadequately stimulated. But more recently, the same behavior has been observed in wilder settings. In India, a cat owner came home to find that her kitten had been "adopted" by a local monkey:
–
…and in Kenya, locals marveled at the strange, seemingly happy relationship between a baboon and a (usually nocturnal) bush baby:
-http://www.youtube.com/watch?v=2dF9W7X7ppQ?rel=0
While the love may not always be as warmly received as it is given (baboons have also been known to steal feral puppies which they then turn into pets), it's clear primates have a lot of love to give.
–
Owen (the Hippo) & Mzee (the Tortoise)
We've all heard of May-December relationships, but few are as extreme as the unlikely friendship that developed between Owen, a baby hippo, and Mzee, a 130-year-old tortoise, in the wake of a 2004 tsunami: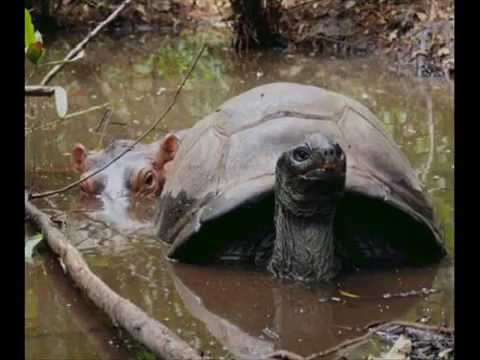 –
The tortoise helped encourage the young hippo to eat, and the pair soon became inseparable. They're still enchanting visitors to their home in Haller Park Sanctuary today.
–
Legadema the Leopard and a Baby Baboon
In the wild, predators hunt, and prey is hunted. But what is usually a very clear relationship between opposing types was complicated when one leopard was surprised by a baby baboon, and decided not to eat it, but instead to care for it (a warning to viewers: this video starts with a brief image of Legadema hunting an adult baboon):
–
Apparently, maternal instinct is stronger even than the need to hunt, something evidenced again by the…
–
Lioness and the Oryx
Fair warning to our readers: this next story's a bit of a tear-jerker.
In the wild, single lionesses are very vulnerable, not only because they lack a pride to protect them, but because they're often hunted by other groups of lions.
But one lioness found an unlikely series of companions: baby antelopes: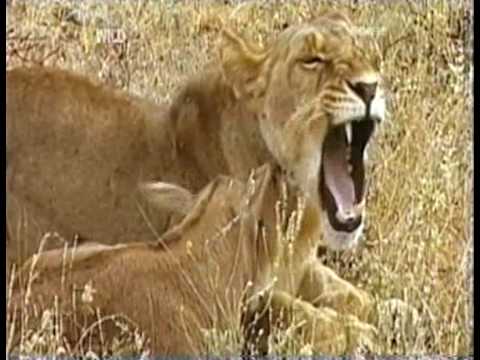 –
Though the lioness's multiple "adoptions" never lasted long (thanks to other predators in the bush), her impulse to protect the creatures she thought of as her "cubs" was enduring.
Pass the Kleenex.